Invivo Workspace makes it easy to share files with your colleagues and patients.
To send a case
Select the case you wish to send, then select the send icon.



or
Select the specific case you wish to send.
Click the kebab Menu (three vertical dots) that appear inline with the case.
Click Send Case option

or
Select the case you wish to send to.
Click the Hamburger Menu (three horizontal lines) in the top right corner of the screen.
Click Send Case option.

To send a file
To send a file, select the drop down arrow, then select the patient file instead of a patient case and repeat the above steps.
Sending cases or files to other providers
Enter in recipient information, then select the Add button. You can repeat these steps to add multiple Contacts to send to.

Note: If a contact exists in your contacts page, that contact will display when you input the first letter that is contained in the contact name.
If the contact doesn't exist in your contacts page it will be added after the first time you send a case to the contact.
Sending cases to patients
Toggle the toggle switch to the on position, enter the patients email address.

You can create a discussion by adding a subject and message.
Click the send button
Your case has now been sent to a provider contact and the patient! If you select the Open Discussion popup it will display the Case Details page with the discussions panel open.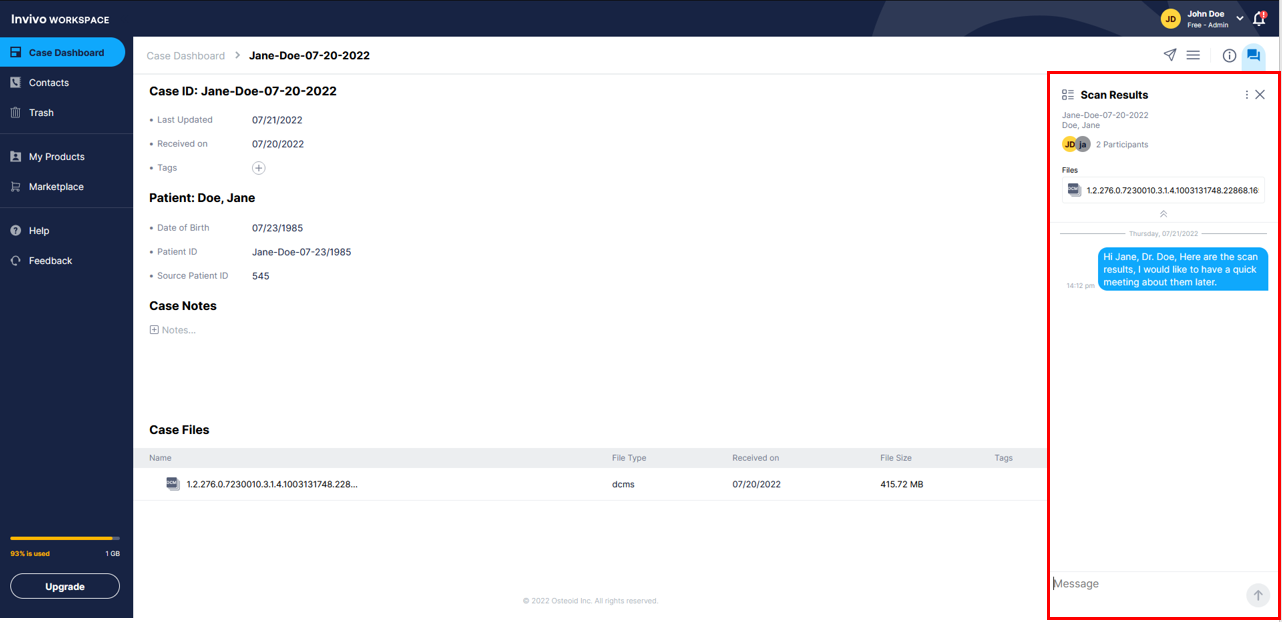 What the recipient will receive
If they are a new user to Invivo Workspace, the recipient will receive a notification email asking them to sign up for a free account to view the shared file. If they are current Invivo Workspace users they will receiver a notification email stating "Case Received..." as well as notifications within Invivo Workspace itself.
Note: Please inform your recipients that notification emails may be sent to the spam folder.